The I-15 South Davis Improvements major project milestones have been completed! Several months of finish work remain, but the barrels have been removed from the entire project corridor. Remaining work will occur in localized areas with daytime shoulder closures. or nighttime lane closures
South Davis Express Lanes Open To All Eligible Users, Monday October 5
Express Pass holders can access new lanes between North Salt Lake and Farmington
Ogden– The Utah Department of Transportation (UDOT) announces that all features of the newly completed Express Lanes, between North Salt Lake and Farmington, will be available to motorists beginning Monday morning, October 5.
While the new lanes constructed as a part of UDOT's South Davis Project opened to carpooling commuters in August, the Express Lane single-user tolling features were not available at that time.  Since then, UDOT traffic managers have calibrated and tested the tolling equipment, and Express Pass holders will now be allowed to travel in these lanes beginning Monday, October 5.
The boundaries for the new zone is from 600 North in Salt Lake City to Parrish Lane in Centerville. This has affected the length of the North Davis and Salt Lake zones.  A map is available on the Express Lanes website at http://www.udot.utah.gov/expresslanes/ that shows the boundaries of the new zone in south Davis County.
---
Remaining Items of Work:
Over the next two months crews will commission the Express Pass payment system, make minor repairs, complete landscaping at the interchanges, place erosion control seed along the shoulders of I-15, paint the 400 North bridge, complete inspections and ensure that all work meets UDOT's standards. The project is expected to be fully complete in October.
I-15:
• The new Express Lanes are now open to high-occupancy and clean duel decal vehicles, connecting the previously existing segments in North Salt Lake and Farmington, making Utah's Express Lanes system the longest continuous system in the US at over 80 miles. The electronic tolling system will be calibrated and the lanes are expected to open to Express Pass holders in late September. Click Here to learn more about the Express Lanes, passes and clean fuel decals.
• Nightly through October,there will be single lane closures at night in various locations throughout the corridor.
• I-15 lane closures will begin at 9:00 p.m. with I-15 reduced to two lanes by midnight.
Side Street Closures:
• Expect intermittent lane closures at night on 2600 South, 500South, and Parrish Lane through September. Side streets will be restricted to one lane in each direction for bridge inspection and close-out items as needed.
400 North / 500 West
• Construction to add dedicated right turn lanes to the south side of the 400 North and 500 West intersection is nearing completion. Work will occur on all corners of the intersection. One corner will be constructed at a time to reduce impacts to traffic. Expect daytime shoulder closures and nighttime lane closures in the area through October.
Getting Around
Most construction activities have been completed and there will no longer be many impacts. Expect I-15 congestion and delays during construction. Plan ahead anduse alternate routes including Legacy Parkway, US-89 and Redwood Road or try transit options like
Frontrunner
to reduce delays. The cameras below show current traffic conditions on I-15 in South Davis County.
Route 1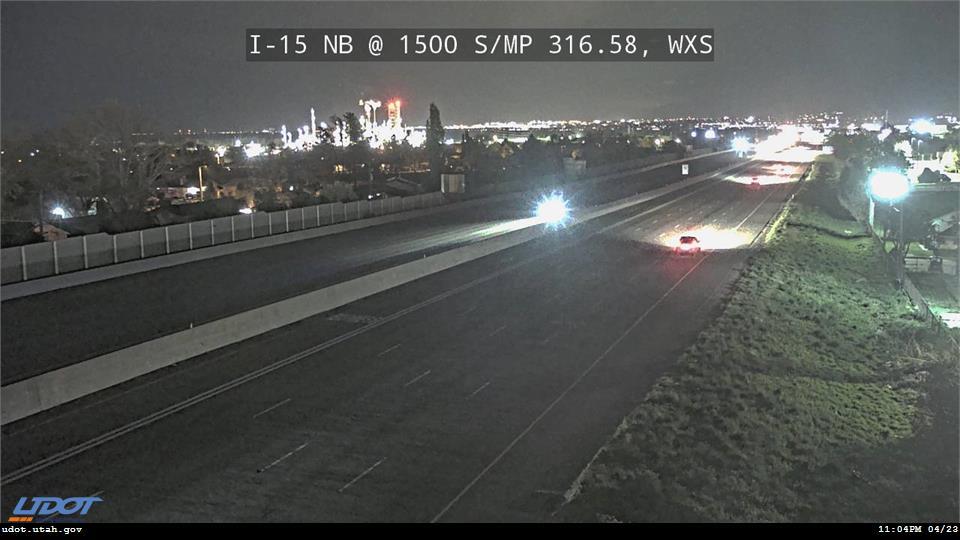 Route 2
Route 3
Route 4