Big Changes on 2100 North Interchange in Lehi
New unique on-ramps to southbound I-15 will add new access points and improve traffic flow
UDOT opened two new unique on-ramps to southbound I-15 in Lehi as part of the I-15 Technology Corridor project. These ramps will provide direct access to the freeway and improve traffic flow in this fast-growing area of the state. Opening these ramps is a major milestone for the three-year construction project, which is anticipated to be complete in November.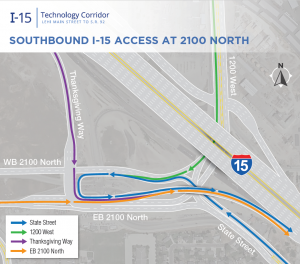 A new on-ramp at 2100 North opened Thursday, Aug. 27, carrying traffic over State Street to southbound I-15. Drivers heading to southbound I-15 from State Street and 1200 West will stay left and merge into a dedicated turnaround lane, and those coming from eastbound 2100 North will need to be in the far-left lane and merge left.
The design of this new on-ramp is compatible with a future freeway-to-freeway connection with I-15 and Mountain View Corridor. It accommodates the traffic needs of today, allows for any future development in this area, and will eliminate the need for rework when the future Mountain View Corridor project is funded.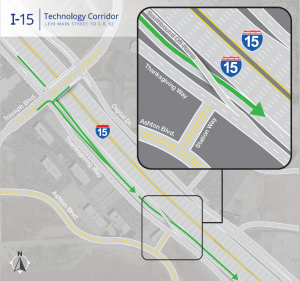 In addition, a new on-ramp to southbound I-15 from Thanksgiving Way opened last weekend. This on-ramp will collect vehicles from Timpanogos Highway and Thanksgiving Way and merge them onto southbound I-15. Both new on-ramps will reduce congestion at the 2100 North and Timpanogos Highway (S.R. 92) interchanges and improve travel times.
As the I-15 Technology Corridor project nears completion, several new features will be opening in September and October. Drivers should stay alert and pay attention to changing road configurations. Information on these upcoming changes can be found at udot.utah.gov/techcorridor.
This project is the latest effort in UDOT's plan to improve I-15 from Spanish Fork to Bangerter Highway. Construction schedules are weather-dependent and subject to change. For the latest information on traffic restrictions during construction, visit the UDOT Traffic website or download the UDOT Traffic app for iPhone or Android. Follow UDOT on social media including Twitter, Facebook and Instagram.