Major Construction to Begin on U.S. 40 North of Heber City

March 3, 2022
Drivers should plan for lane closures, traffic delays through fall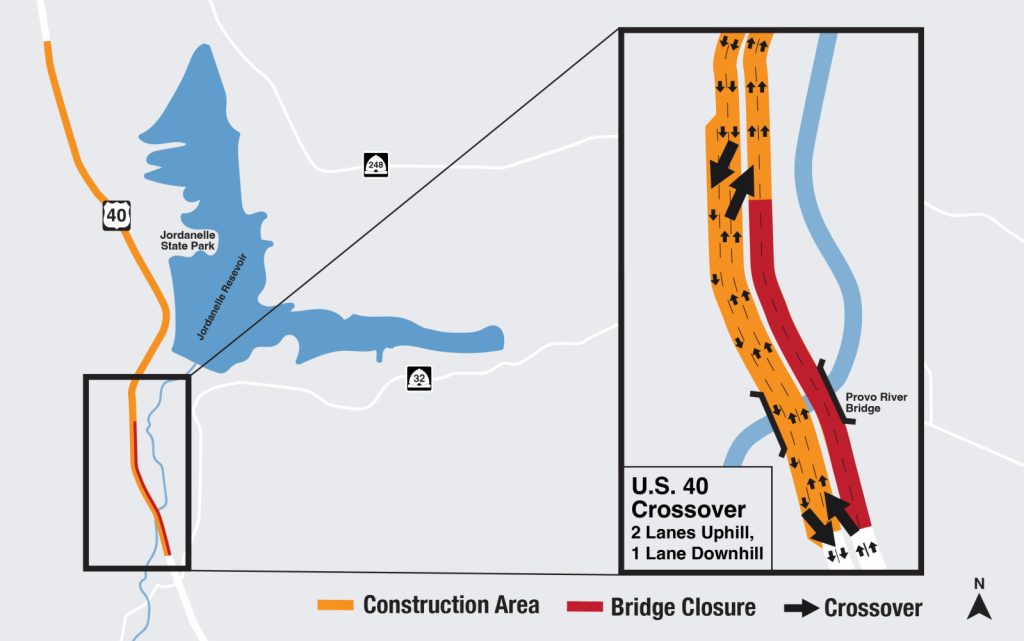 UDOT advises drivers to plan for construction on U.S. 40 north of Heber City beginning as early as March 7. Crews will replace the driving surfaces on two bridges over the Provo River and repair or replace concrete panels to improve ride quality and prolong the life of the road.
"U.S. 40 is the primary route from the Uintah Basin and the Wasatch Back to the Wasatch Front, not only for trucks and commuters but also for recreational travel," said Craig Hancock, UDOT project manager. "Keeping the highway in good condition is a high priority for us, and our project will help maintain this critical transportation link."
Crews are scheduled to work Monday through Friday between 7 a.m. and 5 p.m. but lane closures will remain in place 24 hours a day to help ensure safety. During the concrete slab replacement in spring and early summer, drivers traveling toward Park City (westbound) should expect additional travel delays due to occasional single lane closures. Motorists should expect reduced speed limits, shifting lanes and travel delays through the fall.
Work will begin with crews building asphalt areas to cross traffic from one side of U.S. 40 to the other. This will allow crews to work on one side of the road while keeping the other side open to vehicles. Replacement of the bridge driving surfaces is scheduled to start in April, followed by replacement of the concrete panels on the highway itself. The panel replacement work will require additional lane closures in both directions.
Construction activities, dates and times are subject to change due to weather, equipment issues, or materials availability. Members of the public can contact the project team with any questions or concerns by calling the project hotline at 800-292-3557or emailing us40@utah.gov. Additional information can also be found on the project website, udotinput.utah.gov/us40improved. For the latest information on traffic conditions across the state, visit the UDOT Traffic website or download the UDOT Traffic app for iPhone or Android.