Portions of I-15, Bangerter Highway Closed this Weekend

April 29, 2022
Bridge construction and maintenance scheduled in Davis and Salt Lake counties 
UDOT advises drivers to plan for major restrictions on I-15 in Davis County and Bangerter Highway in Salt Lake County this weekend:
Northbound I-15 will be reduced to one lane for temporary paving and a traffic shift Friday, Saturday and Sunday night, April 29-May 1, from south of Parrish Lane in Centerville to the 200 West exit in Farmington. Lanes will close starting as early as 8 p.m. Friday. One northbound lane will be closed during the day on Sunday, May 1, as well. All lanes will open by Monday, May 2, at noon.
Bangerter Highway will close in both directions at SR-201 from Friday, April 29, at 8 p.m. through Monday, May 2, at 5 a.m. for pavement maintenance. All right turns from the interchange ramps will remain open, but all left turns will be closed.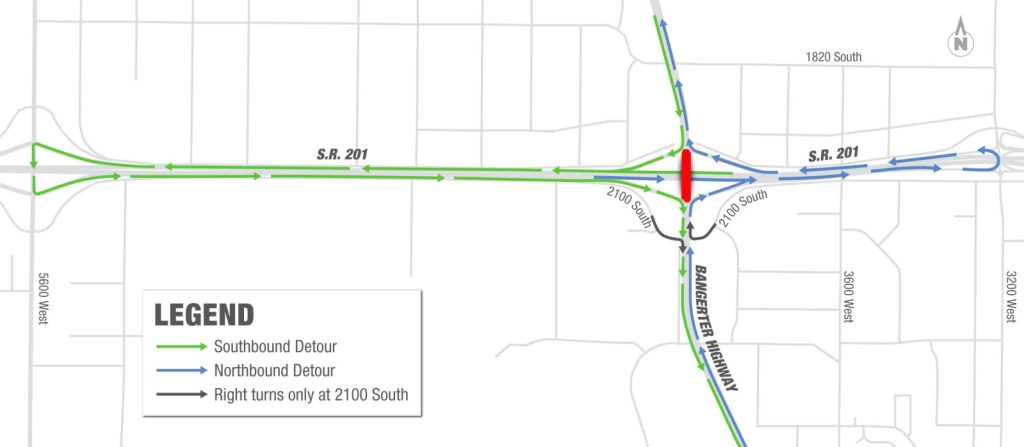 For more information about the Bangerter Highway pavement maintenance project please visit udotinput.utah.gov/bangeter3500southtoairport.
UDOT reminds drivers that construction schedules are weather-dependent and subject to change. For the latest information on traffic restrictions during construction, visit the UDOT Traffic website or download the UDOT Traffic app for iPhone or Android. Drivers can also follow UDOT on social media including Twitter, Facebook, TikTok, and Instagram.