UDOT Announces Year-end Construction Totals for 2022

January 18, 2023
Work continues to build, maintain transportation system to help Utahns get where they want to go
The Utah Department of Transportation (UDOT) completed 129 projects statewide during 2022, with a total value of approximately $1.08 billion. Utah is one of the fastest-growing states in the country, and UDOT is continually working to meet current and future transportation needs while keeping the existing highway system in good condition.
"We're committed to making our state's transportation system work better for everyone. We want to make sure that no matter how people choose to get around, they can do so safely and easily," said Carlos Braceras, UDOT executive director. "Our projects keep our roads, bridges and trails in good condition and help connect people to places they want to go."
This year, UDOT widened highways, added passing lanes, replaced pavement and bridges, and added safety improvements for drivers, pedestrians and cyclists. The list below highlights some of the notable work completed this year on Utah's highway system.
Bangerter Highway interchanges — Salt Lake County: Three new interchanges with on- and off-ramps were constructed along Bangerter Highway at 6200 South, 10400 South and 12600 South. With the opening of these interchanges, Bangerter Highway drivers are able to travel more safely and efficiently. Four more interchanges are scheduled for construction beginning in 2023: 2700 West, 13400 South, 9800 South, and 4700 South.
I-15 Express Lanes — Davis County/Weber County: I-15 was widened in both directions to add a new Express Lane from Layton Parkway to Riverdale Road. This extends Utah's continuous Express Lanes to 82 miles from Spanish Fork to Riverdale – the longest continuous high occupancy vehicle (carpool)/toll lanes in the United States. This shortens the drive time and enhances safety for travelers in Weber and Davis counties.
I-84 maintenance — Box Elder County: Crews completed concrete pavement maintenance on a 10-mile section of I-84 northwest of Tremonton to extend the life of the interstate. In the spring, workers will apply new striping and install new signs and fences.
Vineyard FrontRunner Station — Utah County: In cooperation with the Utah Transit Authority, UDOT helped construct a new FrontRunner commuter rail station in one of the fastest-growing cities in the state. The new station provides residents with a new connection to the Wasatch Front's transit system, so they have more transportation choices.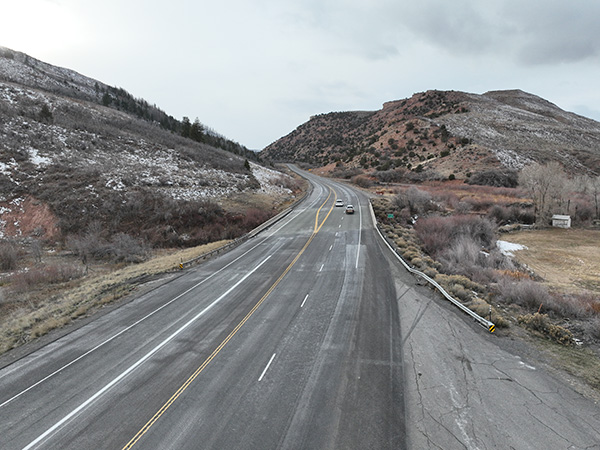 US-40 paving — Wasatch County/Duchesne County/Uintah County: Crews repaved a total of nearly 60 miles along sections of US-40 in these three counties. These paving projects help keep US-40 in good condition as a critical connection between the Wasatch Front and the Uintah Basin.
SR-24 paving — Emery County/Wayne County: A series of projects repaved approximately 70 miles of SR-24, and widened or graded the highway shoulders in many locations to enhance safety for drivers. Another project is currently underway to replace the SR-24 bridge over the Fremont River.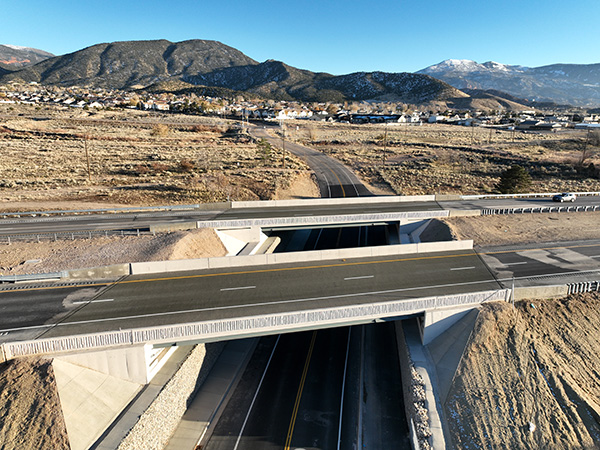 I-15 paving and new/rebuilt bridges — Beaver County/Iron County: UDOT completed pavement maintenance along three miles of I-15 in Cedar City, seven miles near Beaver, and 11 miles north of Parowan. Projects this year also replaced the I-15 bridges over East Nichols Canyon Road and constructed a new bridge over I-15 at Coal Creek Road in Cedar City. In addition, crews installed new guardrails and barriers along the interstate at strategic locations between the Arizona border and the I-70 interchange.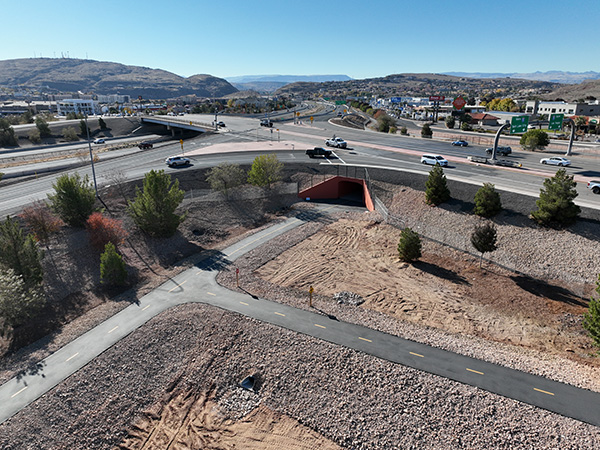 Bluff Street pedestrian tunnel — St. George: UDOT partnered with St. George City to build a new pedestrian tunnel under Bluff Street near the I-15 interchange. The new tunnel improves safety for pedestrians and cyclists, and improves connections to the region's trail network.
In 2022, work continued on major projects including the new West Davis Highway and US-89 widening and reconstruction in Davis County; I-80/I-215 reconstruction in Salt Lake County; US-40 bridge and pavement maintenance in Wasatch County; and I-70/I-15 interchange bridge maintenance in Millard County. Most of these projects will be completed in the next 12-24 months.
For the latest information on road conditions and traffic restrictions on Utah highways, visit the UDOT Traffic website or download the UDOT Traffic app for iPhone or Android. Drivers can also follow UDOT on social media including Twitter, Facebook, and Instagram.