Annual Conference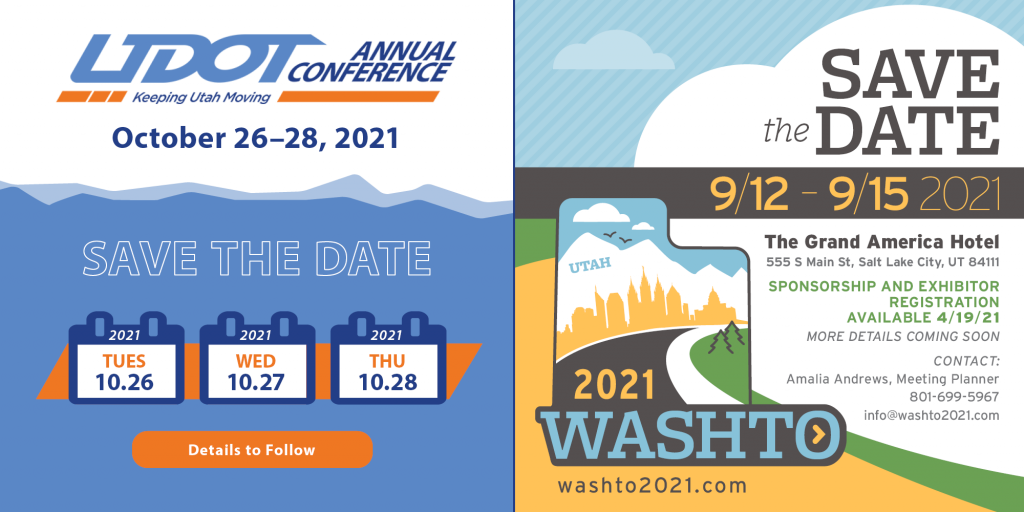 The UDOT Annual Conference brings transportation industry professionals together from across the intermountain west to learn from each other. We are pleased to announce that the 2021 UDOT Annual Conference will be held on October 26 – 28, 2021! Mark your calendars for the conference as we continue to nail down more details.
The WASHTO 2021 conference is also being held in Utah on September 12 – 15, 2021! We are very excited for the opportunity to host WASHTO in our state this year in lieu of last year's cancellation and we hope to see some of you this year. Sponsorship and exhibitor opportunities are still available and can be accessed at washto2021.com.
The best way to stay up to date on annual conference activities is to subscribe to our email distribution list. Please email udotannualconference@utah.gov with "subscribe" in the subject line to be added to the list (to unsubscribe to the distribution list, please send an email with "unsubscribe" in the subject line.
---
As a reminder, those who would like to access breakout session recordings of previous conferences and obtain CEU credits can do so on the UDOT Learning Portal.
Annual Conference Contacts