Two Massive Road Projects Open

December 18, 2012
UDOT marked two significant milestones as it celebrated the completion of the largest road construction projects in Utah history on Saturday, December 15 with the opening of the Utah County I-15 Corridor Expansion (I-15 CORE) and 15 miles of the Mountain View Corridor (MVC) in Salt Lake County.
"We have delivered the World Series and the Super Bowl all in one day," said UDOT Executive Director John Njord.
Local leaders, including Governor Gary Herbert, House Speaker Becky Lockhart and Senator John Valentine, joined UDOT in cutting the banner on the record-breaking I-15 CORE project Saturday afternoon. More than 100 people braved the chilly December weather to join the festivities. Refreshments including hot chocolate, hot dogs and special I-15 CORE sugar cookies were available to say thank you to the public for their patience throughout construction.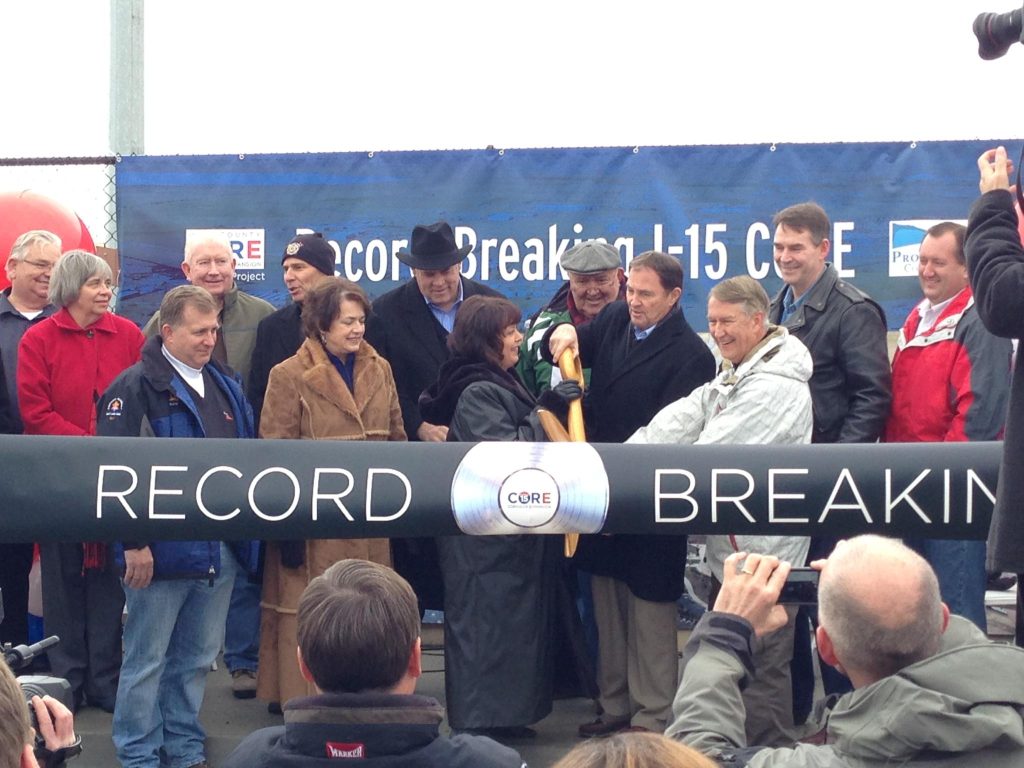 "Hear the noise. That's the sound of progress," Herbert said, as cars and trucks passed underneath the Sam White Bridge on I-15. "That's the sound of commerce, that's the sound of a state that's really going in the right direction."
Construction on I-15 CORE was finished in an unprecedented 35 months, making it the fastest billion-dollar public highway project ever built in the United States. The project came in $260 million under budget.
Saturday's celebration was held on the Sam White Bridge in American Fork, the site of one of the project's greatest achievements. In March 2011, UDOT moved the bridge — the longest two-span bridge to be moved by self-propelled modular transporters
(SPMTs) in the Western Hemisphere — into place over I-15 in one night.
"The technology to move the Sam White Bridge into place in hours instead of months is indicative of all the work that took place on this project" to complete it quickly and keep traffic moving, Njord said.
I-15 CORE reconstructed 24 miles of freeway from Lehi to Spanish Fork, with two additional freeway lanes in each direction.
Earlier that day, snow flurries didn't deter over 200 runners who bundled up in their winter gear to attend the MVC opening celebration, which featured a 5K Polar Bear Fun Run to give members of the community an opportunity to enjoy the road before it opened to motorists.
"It looks like Christmas to me," said Governor Herbert as he spoke to the chilly, but upbeat crowd.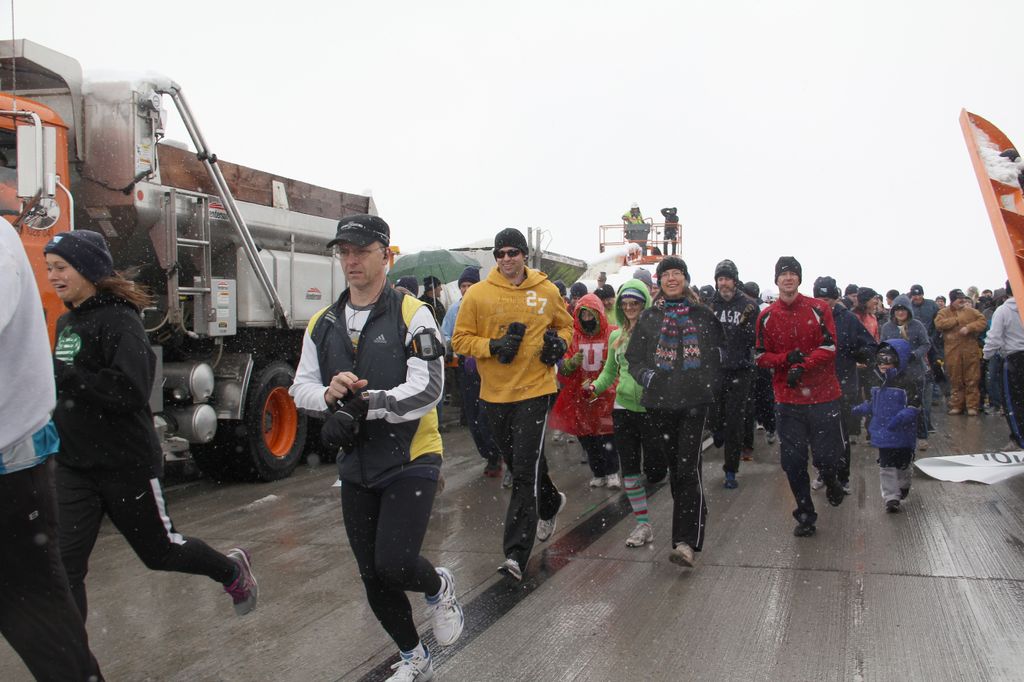 Runners were entertained by music courtesy of the Copper Hills High School Marching Band, stayed warm with the help of hand warmers and MVC beanies and enjoyed holiday treats, hot cider and hot chocolate provided by the project's contractors.

Representative Wayne Harper and West Jordan Mayor Melissa Johnson also addressed the audience and thanked UDOT for their continued innovation and partnership in developing this vital roadway.

The current phase of MVC is 15 miles long and features two lanes built in each direction from Redwood Road (at approximately 16000 South) to 5400 South, with signalized intersections where future interchanges will be located.

To meet projected transportation demands in the year 2030, future construction will build out the remainder of the corridor by adding interchanges and inside lanes to achieve a fully functional freeway that will connect with I-80 in Salt Lake County and I-15
in Lehi.

Construction funds have been identified to extend MVC from 5400 South to 4100 South in the next few years.

The roadway also features 15 miles of trails adjacent to the corridor, 9 miles of paved bike lanes and UDOT's first radar activated bike turn signal.

"The vision for the Mountain View Corridor came from the communities in Western Salt Lake County," said Project Director Teri Newell. "UDOT is proud to make this vision a reality and provide these communities with a new transportation solution."

MVC provides increased mobility, but will require motorists to adjust their driving patterns and learn how to navigate a new one-way roadway, as this initial phase is similar to a divided highway with one-way northbound and southbound roadways. Signs
are posted along the corridor and at each intersection to help motorists adjust to the new traffic patterns. UDOT has also produced a navigational video to teach motorists how to drive on the new roadway.

Governor Herbert touted the success of both the I-15 CORE and MVC projects, highlighting their importance state. "This is about economic development. If you want a state to thrive economically, you've got to have a transportation system that works," said Herbert.

This is a guest post by Mary Rice of the Mountain View Corridor Project Team.

Tags: Construction, I-15 CORE, Mountain View Corridor, road construction