Utah Based Aircraft Registration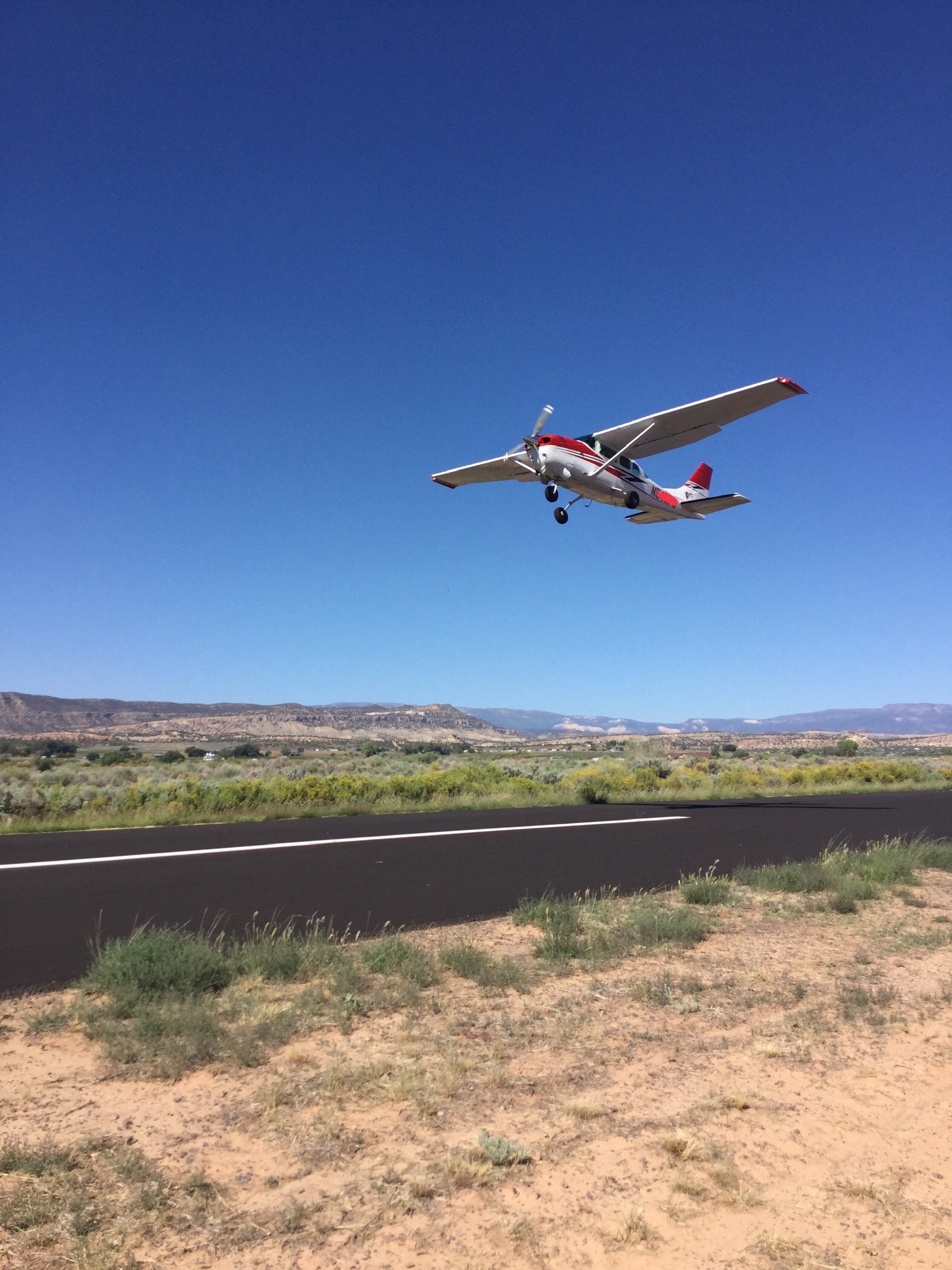 UDOT's Division of Aeronautics welcomes aircraft owners and aviators to Utah's Aircraft Registration Portal!
*NEW* Utah no longer issues Aircraft Registration Decals!
Aircraft registration fees are based on the Average Wholesale Value of the aircraft as published in the Fall editions of the Aircraft Bluebook Price Digest in accordance with Utah Code Title 72-10-110.
The Division of Aeronautics determines the correct registration fees for customers.
Payments and registration must be completed using the online portal and only credit cards or e-checks will be accepted.
Mailed Checks are not accepted. Please do not mail checks.
If you've received a notice to renew or establish your Utah Aircraft Registration, Utah's Division of Aeronautics welcomes you to Utah Aeronautics Online Registration Portal!
For Account Details & Payment
For new owners establishing registrations for the first time on an aircraft, or if you qualify to register for less than the full calendar year, select our Request for Agency Action for prorated fees.
All aircraft registrations include a $25 annual State Uniform Fee, as required by law.
If you received a renewal notice and are no longer the current owner of the aircraft, please email a copy of the Bill of Sale to aircraftregistration@utah.gov.
Questions or Help
First-time Registrations Using Online Portal
Pay Your Bill (If you already have a Utah Aircraft account and know your email address and password – Click the "Pay Your Bill" link). Utah aircraft registrations must be paid online using credit cards or e-checks. **PLEASE DO NOT MAIL CHECKS**
7 Steps to Register
Create your account with your email address and password
Pay Your Bill
Add currently FAA registered aircraft to your account.
Check your FAA data here: https://registry.faa.gov/AircraftInquiry/Search/NNumberInquiry
Update Owner address, email, phone number and billing information. Business owners may add a second email and second billing address to your Utah registration account. Note: The FAA registration record owner address and data is used as primary.
Select your aircraft's primary airport location and effective dates.
Review aircraft value, assessed Utah registration fees and $25 uniform fee.
Pay total fees with credit card or e-check. Confirm transaction success.
Print your Utah Aircraft Registration Certificate. For owners of multiple aircraft, re-enter this checklist at Step 2.
What Do Registration Fees Provide?
Registration and Uniform Fee payments improve Utah's public airports by providing grant eligibility in FAA and State airport capital improvement programs!
Pay Current Fees
First time aircraft registration:
Registration for Utah is still possible with pending FAA data changes. However, before registering your aircraft in Utah, verify what data the FAA has current data on file at
. To confirm FAA information visit:
FAA Aircraft Registration Application
FAA records are updated each day at midnight. For the latest document processing status, call
(866) 762-9434
If an update is required, please use the following
Agency Action Requests
For Utah, any significant issue that would change a normally assessed fee requires an Agency Action Request to be selected by the applicant on the UDOT Aircraft Registration portal. Importantly, the Division of Aeronautics and UDOT are not able to process a refund, issue a credit or adjust the fees due after a payment is processed on the UDOY Aircraft Registration portal. All adjustments MUST be made before a payment is processed. Below are the currently available categories of Agency Action Requests that may apply to your type of aircraft ownership: Aircraft Owner Incorrect
Wholesale Value/Fees
Air Charter Services
Tax Exempt Entity
Newly Utah Based Aircraft
Aircraft Not Airworthy
Aircraft Out of State > 6 Months
Medical Transport Use
Recently Purchased Aircraft/Change of Ownership
Other (specify)
Reduced Rate Categories
Reduced Rate Registration Categories
Aircraft used for Air Charter Services pay 0.25% of the average wholesale value for a registration fee if they qualify for Air Charter Service requirements.
Other aircraft are assessed a $100 registration fee under the following categories:
– Aircraft owned by an IRS approved
Tax Exempt.
Tax Exempt 501(c)3 entity
– Aircraft used for emergency
Medical Transport
of patients greater than 95% of time
60 years old
will use the lessor of $100 or 0.4% of the average wholesale value
– Aircraft that are not able to be valued by the Aeronautics Division.
Air Charter Service Registrations
Air Charter Service aircraft pay 0.25% of the average wholesale value if:
"Used by the Air Charter Service for Air Charter "and" if owned by a person "other" than the Air Charter Service".
Eligible owners must process Charter registration accounts by initiating a
Request for Agency Action
See
Utah Code Title 72-10-110
for reference Refer to
FAA's Part 135
details list for additional requirements.
General Info
What is a "Utah based" aircraft?
An air-worthy aircraft in Utah for the cumulative majority of a year.
First time registering an aircraft in Utah?
See First Time Registrations Using Online Portal section above
Late Fee Penalties
Registration payments made after Jan 31st of each year may have fines of 10% for Jan and 5% of the registration fee for months after Jan, added to the bill. See Utah Code Title:
72-10-112
.
For non-compliant aircraft registration or unpaid State Uniform Fees:
Registration Fee violations:– Seizure: 41-1a-1101, 41-1a-1301, and 41-1a-1307. – Class B Misdemeanor: $1,000 fine, up to 6 months in jail. See 72-10-120.
Uniform Fee Violations: See Utah Codes 59-2-405, 59-2-405.1, 59-2-405.2, 59-2-405.3, 59-10-13, and 72-10-110.5.
Utah Aeronautical LawsSee Utah Code, Title 72-10
Sales Tax for Utah Aircraft
For sales tax questions on Utah aircraft, please contact the Utah State Tax Commission, Aircraft Division at the following numbers:
(801) 297-4758
(801) 297-4670
(801) 297-4753
Utah's Tax Commission uses the following documents for tax determinations and processing:
Other Questions
Where do I pay my registration bill?
–
Utah aircraft registrations are paid via our online portal starting here:
Pay Utah Aircraft Registration Fees
What if my aircraft is not listed in the quarterly Aircraft Bluebook Price Digest?
–
UDOT Aeronautics uses other Industry-accepted standards to assess valuations.
–
Aircraft without sufficient sales data are assessed the nominal $100 registration fee.
What if my info as the aircraft owner changes? First, Owners must update their records with the FAA by: – filing a new Aircraft Registration Application, FAA Aircraft Registration Application, AC Form 8050-1 – filing an Aircraft Owner Change of Address,FAA Aircraft Owner Change of Address Form – Or by contacting the FAA for additional instructions at FAA Aircraft Registration Then, proceed with Utah aircraft registration for first-time Users starting here: First-time Aircraft Registrations
What if I've sold my aircraft?– Sellers must complete and file an FAA Aircraft Bill of Sale form FAA Form AC 8050-2 – UDOT Aeronautics requires a copy of the filed FAA AC Form 8050-2 including all buyers and sellers information be uploaded in your account. (highlights are for you ref only. Please do not highlight on web pages)
What if I just purchased or acquired an aircraft??– You may be eligible for a monthly Pro-rated Utah registration but must review additional requirements listed in the First Time Aircraft Registration above. – Before operation in Utah airspace you must comply with Utah Code Title 72-10-110
What if I want to Print a Utah Aircraft Registration Certificate?If this year's Aircraft registration fees are already paid and you need a certificate, please follow the steps below:

Create or log-in to your account starting here: Utah Aircraft Registration
Certificate printing is available only for currently paid Utah aircraft registrations.
Certificates may be printed at any time and without limitation; after logging into your account and selecting an aircraft registered within your account.
Valid Utah aircraft registration certificates must contain both a Certificate Number and a unique Transaction Receipt Tracking code.- If either or both of these items are missing, contact Utah Aeronautics for assistance at (801) 715-2264 or via email at aircraftregistration@utah.gov
A printed certificate must be maintained with your aircraft or its operator.Pilot Tip! – Consider saving a copy of the .pdf certificate in your E-Flight bag for added flexibility.

What other Utah Fees or Taxes am I responsible for?– Utah DOT/Aeronautics only requires the Registration and a State Uniform fee be paid each calendar year. – For other Utah Tax considerations, Visit: https://tax.utah.gov/ – Aircraft Self Review Summary and Tax Commission Form TC-828 are regularly used pages.
What if I don't have a credit card to use with the online payment program??– Owners must use the online registration program to initiate and create their account for Utah aircraft registrations. – If an owner does not have a credit card or a personal financial account to process an electronic payment (or E-Check), they will have to make satisfactory arrangements with their local financial institution to get a payment processed with the division of Aeronautics. – Owners may contact our division using the info located on this link: Aeronautics Home Page
What if I'm a joint owner of a Utah based aircraft?– The owner listed on the FAA Registration certificate is the responsible party.
What if the aircraft's FAA Air Worthiness Certificate is invalid?– Aircraft without a valid Air Worthiness certificate, under repair and are incomplete; are not required to pay the annual Utah Registration fee or the state uniform fee. However, before operation in Utah airspace you must comply with Utah Code Title 72-10-110.
What if I:

Qualify for one of the reduced rate categories listed in First-time Aircraft Registrations;
Disagree with the Average Wholesale Value used in determining fees;
Disagree with the penalties assessed?
Under Utah law, fees are computed in accordance with Utah Title 72-10-110. If you are: Registering for the first time as a new owner Qualify for a reduced rate category Are renewing your already reduced rate category registration from the previous year Disagree with values used in determining fees Disagree with penalties assessed Disagree for any other reason You Must: – Initiate a "Request for Agency Action" within 30-days of creating your registration account or receiving your Letter of Notification for Aircraft Registration. – Delay registration fee payment, until your case is decided. If your case is denied, Late Fee Penalties may be added to your account. SeeTitle 72-10-112 – Requests for Agency Action comply with Utah Administrative Rule R914-4 in accordance with Title 63G-(3), Utah Administrative Rulemaking Act.
For questions or help, please contact Martin Shupe, Aircraft Registration Program Manager.
Links