About Us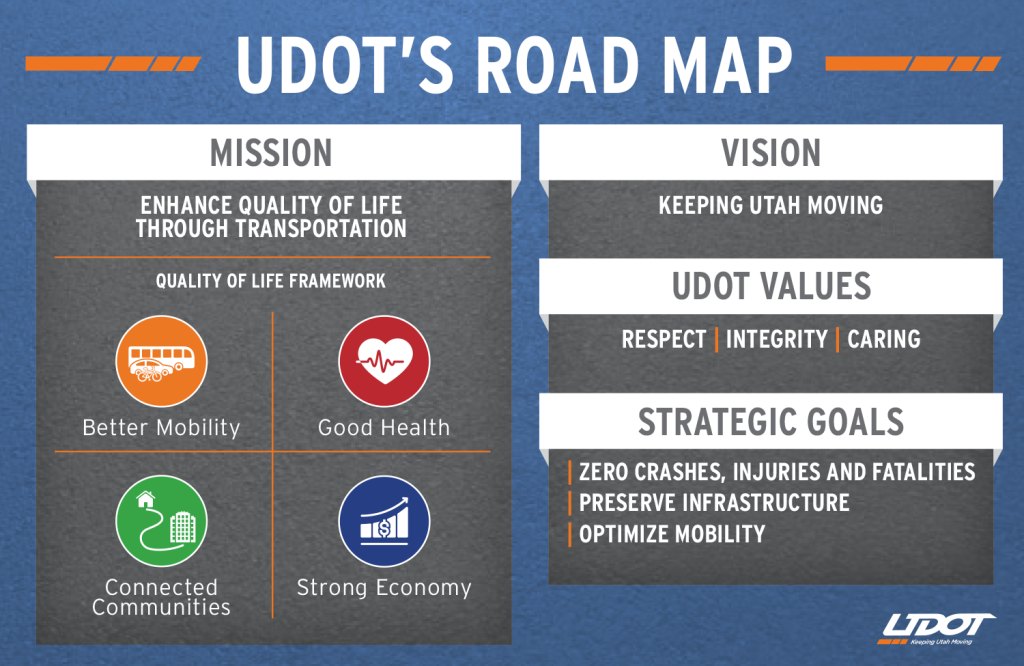 At the Utah Department of Transportation, we keep Utah moving. We aim to give all users of the transportation system choices, so they can get where they want, when they want, in the way they want – safely.
Our mission is clear: Enhance quality of life through transportation.
We implement that mission with four distinct outcomes in mind. These outcomes comprise what we call the Transportation Quality of Life Framework:
Better Mobility
Good health
Connected Communities
Strong Economy
Everything we do, from the way we approach planning to our model for prioritizing projects and funding, centers on this framework.
UDOT is recognized as a national leader in the transportation industry, and that is because of more than the condition of our roads and our innovative methods for operations, construction and project delivery. We believe that the way we do things matter. That's why every member of Team UDOT is expected to demonstrate our three Values:
Our mission and values are at the core of why we do what we do and how we approach our work. Our Strategic Goals define what we do, and they are measured in our Strategic Direction. It is data- and performance-driven and is constantly updated to reflect what we are doing to meet these goals.
Zero Crashes, Injuries and Fatalities
UDOT is committed to safety, and we won't rest until we achieve zero crashes, zero injuries and zero fatalities. Zero is the only acceptable goal.
Optimize Mobility
UDOT optimizes traffic mobility through the use of new technologies for traffic demand management, adding roadway capacity and incorporating innovative design. We are continually pioneering technology and project delivery methods.
Preserve Infrastructure
We believe good roads cost less, and through proactive preservation we maximize the value of our infrastructure investment for today and in the future.
Department Organization & Information
UDOT has several divisions that are responsible for helping the department reach these goals. Information about these divisions and resources for legislators and the Transportation Commission as well as details about special projects and programs can be found on the pages below.