Zero Fatalities Donates Reflective Backpacks to Homeless Service Providers

September 28, 2020
Backpacks designed to help pedestrians be safe and prevent crashes this fall
Zero Fatalities is donating 3,500 reflective drawstring backpacks to homeless service providers throughout Salt Lake County this week.
The backpacks will help people who are experiencing homelessness stay visible to drivers during the fall, which is typically the most dangerous time of year for pedestrians.
"Every day we look for ways we can make Utah's roads safer," said Kristen Hoschouer, UDOT safety outreach administrator. "Wearing reflective gear is essential, especially as we are entering a challenging time of year when it's hard to be seen at night."
On average, 4.42 pedestrians are killed each month during the fall on Utah roads – a 47% increase from the average during the rest of the year. During the fall, days become shorter, and morning and evening commutes take place in low-light conditions or darkness. And in typical years, there is a significant increase in the number of pedestrians during fall, with school back in session.
Zero Fatalities offers the following tips to help pedestrians be safe and seen this fall:
Use sidewalks or the shoulder of the road (if no sidewalk is available) when you're walking or running.
If no sidewalk is available, walk or run on the left side of the road so you can see oncoming traffic.
Make sure you have lights or reflective clothing if you walk or run in the dark.
Look both ways before crossing the street, and cross in marked crosswalks or at intersections if no crosswalk is available.
During the past few years, we have focused efforts on improving safety for people experiencing homelessness. This spring UDOT and South Salt Lake City installed new signs and lights and activated a new High-intensity Activated crossWalK (HAWK) signal on 3300 South and 1000 West near the homeless resource center. HAWK signals are equipped with red lights that stop traffic so pedestrians can cross safely. And, because the signals only light up when activated by a pedestrian, they help keep traffic moving.
"Our guests are always moving around town looking for housing, going to work, getting to school, and making appointments all across the county and visibility is a huge part of that, and so we are really grateful for this donation," said Mike Young, director of the Men's Resource Center.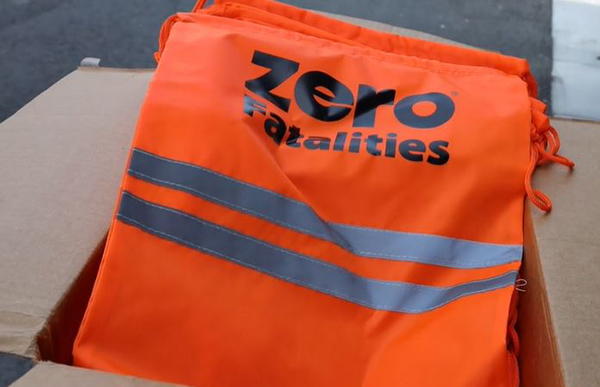 Tags: Pedestrian, Safety, Zero Fatalities