Overweight Non-Divisible Load Provisions
PERMIT FEE SCHEDULE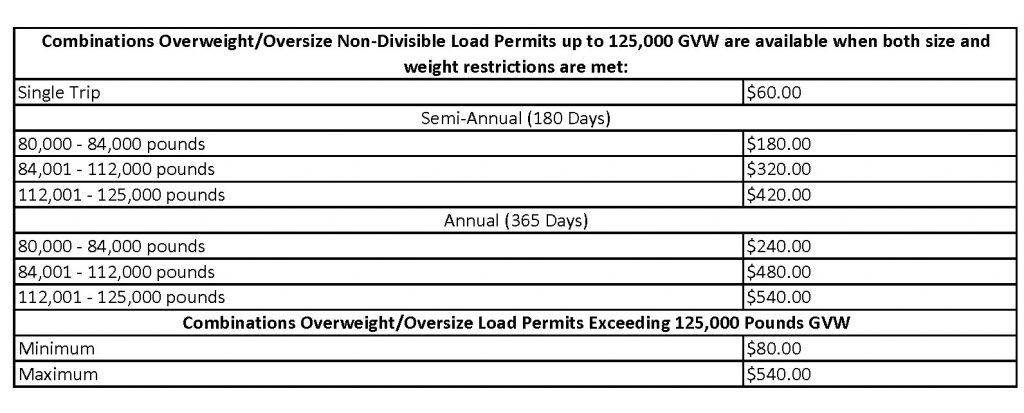 Overweight/Oversize permit fees for vehicles with a GVW in excess of 125,000 pounds are determined by the following table: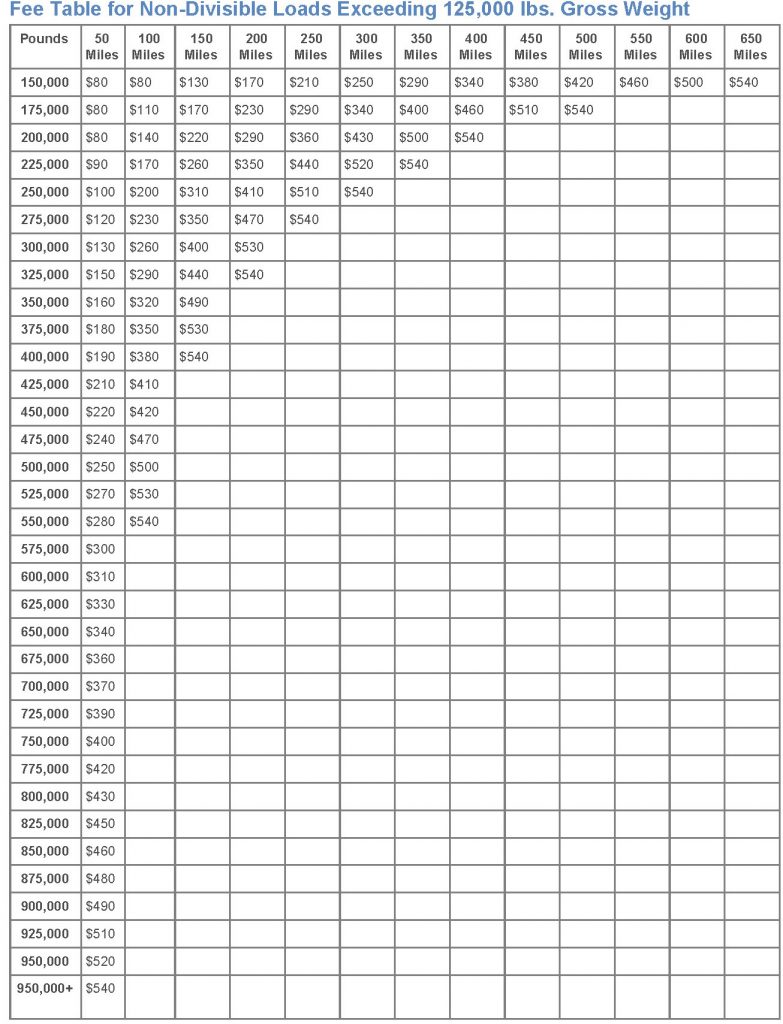 ---
Utah Administrative Rule R909-2-24
Permitted vehicles must comply with the following conditions:
All vehicles and/or loads shall be reduced to the minimum practical dimensions.
A permit for non-divisible loads will indicate the axle and gross weight authorized.
Exception: an overweight non-divisible load may operate with a divisible overweight permit provided the axle, gross and bridge limitations do not exceed those specified on the permit.
Classification of divisible vs. non-divisible will be determined by the nature of the load and the vehicle configuration.
Note: If you are exceeding legal size you will need a separate permit for a non-divisible load
OVERWEIGHT NON-DIVISIBLE LOADS
An overweight non-divisible load permit may be issued for moving a combination of vehicles and loads exceeding the legal limits under the following conditions:
The vehicle or combination of vehicles is properly registered for 78,001 to 80,000 pounds or equal to or greater than the gross vehicle weight. UCA 72-7-406(4)(B)
Movement of overweight non-divisible loads shall meet requirements specified under rail crossings. UCA 41-6a-1205.
The appropriate permit for oversize vehicles and loads must be obtained prior to operating within the State of Utah, except when entering on I-15 from AZ (St. George Port of Entry), Westbound I-80 from WY (Echo Port of Entry), and Eastbound I-80 from NV (Wendover Port of Entry). The permit may be in paper or electronic format. Permits may be obtained by calling any of the Ports of Entry, the Motor Carrier Division at (801) 965-4892 or (866) 215-5399, or by purchasing online.
Purchase Permits with a major credit card online:
Purchase Single Trip, Semi-Annual or Annual permits at any Port of Entry by cash, check, or credit card. Port of Entry contact information:
SINGLE, SEMI-ANNUAL, ANNUAL TRIP PERMITS FOR OVERWEIGHT NON-DIVISIBLE LOADS
Utah Administrative Rule R909-2-25
MILK PRODUCTS
Utah Administrative Rule R909-2-25(6)(a)
OVERWEIGHT NON-DIVISIBLE LOADS EXCEEDING 125,000 LBS*
Utah Administrative Rule R909-2-26
*All STE Operations must have an STE Profile Sheet when axle limitations specified in Table 3 or Bridge Table are exceeded.